[vc_row][vc_column][vc_column_text]Whether you are an employer or employee, claiming a tax deduction for work clothes is one topic that definitely has a lot of myths surrounding it.  Here's a little story that might help to clear things up.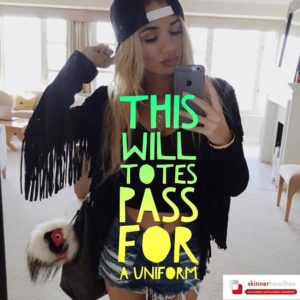 Just the other day we helped the daughter of a business client who works for a retail store, part time. Having no formal work uniform, the girl was assured by her employer that she could claim a tax deduction for any clothes she purchased, so long as she wore them to work. "Hannah" was about to spend a fortune on the latest fashions thinking that she would receive all the money back in her tax refund. Hannah would look fantastic, that's true, but would she ever see that money again…?
BUSTED!
As an employee, even if your boss tells you to wear certain colours or styles, you may only claim a tax deduction for a branded uniform and one that has not already been paid for or reimbursed by your employer.
If you're an employer who has provided a branded uniform to a staff member, you are entitled to claim this expenses in your business tax return.  It goes without saying that, should you be subsequently reimbursed by your employee, you are unable to claim that expense as a deduction.
With the ATO's increased attention on work-related expense deductions, there has never been a better time to know where you stand when shopping for work clothes.  For more specific information Click Here
OUR TIP
When purchasing work wear only spend enough to make sure you are in-keeping with your employers professional image and expectations. This will leave you more money to spend on your everyday/going-out clothes and you won't have to worry about how much you get back as a refund at the end of the year, because you'll already have it.
[/vc_column_text][/vc_column][/vc_row]